What type of license do I need?
(back to Sync2DB FAQ
)
Corporate licenses (both Standard Corporate License and Professional Corporate License) are intended for intra-corporate use; they are applied and stored in a database, administered by for developers or database owners. They can be standard and professional depending on the number of databases that are synchronized (standard-a single database; professional-multiple databases). These licenses are given out to corporate end-users in the form of subscriptions and activated by the system administrators (developers, database owners, etc.)
Private licenses (Professional Private License) are intended for non-corporate (private) use and allow the end-users to implement this software for their individual needs. If you wish to synchronize your data with a database offered by a database owner, this license is for you.
Developers may get this type of license for free, upon request; it can be used for developing purposes only (one per developer per organization).

Here is a very simple rule: if you do not know where the database is located what type it is, you should not buy a corporate license, but a Professional Private License instead.
Sync2DB Corporate vs Private Licenses: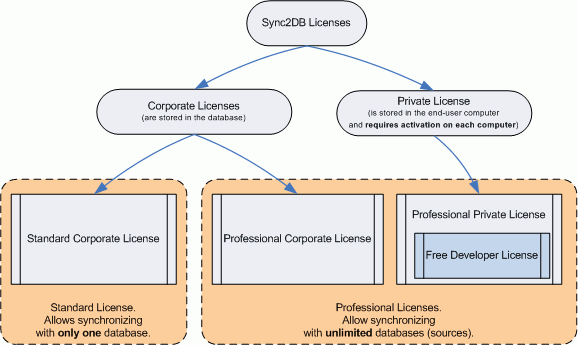 Sync2DB Standard vs Professional licenses: